CHICAGO O'HARE AIRPORT (ORD) INFORMATION
Origin
Airline
Flight no.
Scheduled
Est./Actual
Status
No flight arrivals were found at Chicago O'Hare Airport.
Destination
Airline
Flight no.
Scheduled
Est./Actual
Status
No flight departures were found at Chicago O'Hare Airport.
Car Hire at Chicago O'Hare Airport
UNBEATABLE VALUE CAR RENTAL
Free Amendments | Free Cancellations | No Card Fees




Chicago O'Hare Airport - All Information on Chicago Airport (ORD) Chicago O'Hare Airport
10000 Bessie Coleman Drive, Chicago, Illinois 60666, USA
phone +1 773 686 2200
phone+1 773 686 2385 (Lost + Found)
emailaviation@flychicago.com
call_end+1 773 686 3573 (fax)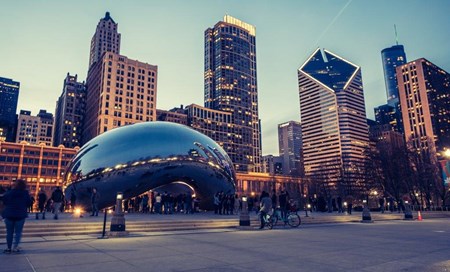 Chicago O'Hare airport is one of the busiest ones in the United States. It is the country's only dual hub which is used by the United Airlines and the American Airlines. It managed to generate approximately 514,000 jobs in the region and economic revenue development which amounts to $39 billion in just a year. It caters to an approximately 83.2 million passengers consist of over 903,000 flight operations based on the 2018 report alone. It is currently undergoing its Modernization Program which is tasked to help increase capacity through the creation of a parallel runway system thus decreasing delay in its major flights.
Chicago O'Hare carries more than 1.86 million tons of freight and mail every year. But amidst this busy daily schedule, the airport remains committed to the noise reduction policy established by the state as proven in the million of dollars it allocates for the residential and school soundproofing. It is one of the reasons why Chicago remains to be the best tourist and business destination for many individuals. It has never failed to provide the growing needs and demands of its customers thus resulting to favorable customer response.
Everyone is very much excited with the modernization program of ORD, the airport code of O'Hare International Airport. In the year 2005 the Federal Aviation Administration favored the O'Hare Modernization Program, a vision created by Mayor Richard M. Daley that wish to build a 21st century airport without having to get the cost from the taxpayers' pocket. Once the modernization program is completed, it will then have eight runways composed of two crosswind runways and six East-West parallel runways. The construction plan will transform the airport to a system of intersecting runways which is guaranteed increase flight capacity by increased reduction in its flight delay into the future. All works are estimated to be completed after many delays in 2021.
Chicago O'Hare Modernization Program is now considered as one of the largest construction projects of the country and everyone is optimistic that it will bring greater tourism revenue for the state as popularity of the airport increases. This is a very big improvement considering its early beginnings as Orchard Field Airport during the early 1940's when it first began its operation. Orchard Filed was chosen by Mayor Edward Kelly in the year 1945 after a location was required to be set for the Douglas aircraft assembly plant in the northwest side of Chicago. It had four concrete runways as part of its design and began operation with temporary runway lights in the year 1946.
The year 1949 brought change to the airport as the Chicago City Council opted to rename Orchard field to Chicago O'Hare International Airport in honor of the naval aviator Lt., Comdr. Edward H. O'Hare, who received a Medal of Honor Award from Chicago but died during the World War II. At that point in time, this Chicago Airport opened its door for commercial air traffic and began serving approximately 176,902 passengers in its first year of operation in the year 1955. During this time, the airlines serving O'Hare were composed of Delta, Capitol, Pan American, TWA, Trans Canada, United, BOAC, American, Braniff, Capitol and Eastern. The airport expanded and underwent several constructions until the very first terminal was built in August 8, 1958 which accommodated international travel.
With the construction of additional runways for Chicago O'Hare, new doors were opened for its expansion. There is no doubt that it is to become the busiest airport in the world since it is more easily accessible to travelers who wish entry to the United States and else where in the country. Massive infrastructures were approved and funded including the 5,000 car parking lot. It was soon made official. O'Hare is the world's busiest airport as dedicated by President John F. Kennedy himself. The passenger traffic doubled and reached 20 million in the year 1965 and additional restaurants started sprouting in its Rotunda Building located in Terminal 3. The airport is determined to hit it big and it did so in the year 1968 when it recorded its 30 million passenger mark for the very first time.
It was made apparent to many investors that the Chicago airport is determined to grow in number in the coming years and it is logical to set-up world class hotels which will cater to the millions of passengers who come and use the airport. The O'Hare Hilton Hotel landed first as it opened its accommodations to passengers in the year 1973. It was strategically located opposite the terminals so passengers can conveniently walk to the hotel lobby right after they have cleared their luggage. The service was made so efficient passengers were enjoying their air transportation experience even more. The number of passengers increased to 37.8 million and the administration of ORD was determined to help accommodate the needs of this growing number of customers. Chicago put up the "Airport Delay Task Force" which allowed the very first use of triple simultaneous runway in Chicago However, these new approaches to better passenger services was further increased after the deregulation of domestic airline system was passed and signed into lay the President in the year 1978. This brought a competitive set of airfares and more destination services offered to the public.
The growth, expansion and development of O'Hare is colossal. In a span of six decades, it has maintained its excellent service and expanded its realm to a wider scope of passengers. The modernization campaign which it undergoes today is a first in the whole world and its full construction will bring a higher level of competition to other airports. It remains as the epitome of all other airport all over the world and keeping up with the lay-out designs and modernization program it is following makes it all the more worthy to be called the 21st Century Airport of the World. It promises to improve its services even more and produce more innovations that will bring forth better passenger experience. Chicago O'Hare Airport keeps your air travel experience a delight and it will continue to do so in the years to come.
The IATA 3 Letter code for Chicago O'Hare is ORD. The GPS location is – 41.97861, -87.90472 which you can enter into your Smartphone/I phone to enable you to find your way to and from O Hare.
When arriving in O'Hare you may wish to hire a car, most of the reputable companies are situates in the Arrivals hall or close by. You will need to present a valid driving licence and credit card if you intend to hire a vehicle. The benefit of getting a free Chicago O'Hare car hire quote is that you can compare prices of most of the major car companies before you travel.
Arrivals, Departures and Airlines at Chicago O'Hare Airport
Hotels near Chicago O'Hare Airport
There are a number of hotels to suit all budgets and requirements at or near Chicago O'Hare Airport.
Parking at Chicago O'Hare Airport
See options for parking services at Chicago O'Hare Airport.
Additional Services and Amenities at Chicago O'Hare Airport
At Chicago O'Hare Airport you will find the usual array of bars and restaurants, airport lounges and shops.
Things to do in Chicago
There are a number of activities to suit all ages and interests in the region - see a selection of tourist activities in Chicago, Illinois in the United States of America.
Services at Chicago O'Hare Airport
Useful Information about Chicago O'Hare Airport